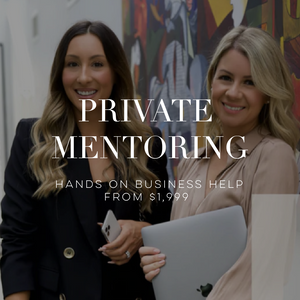 Do you need some help with your business or getting an idea off the ground?
Look no further and - Meet the Mentors! 
What we offer is a completely UNIQUE EXPERIENCE - one where we literally hold your hand through the entire process of building your business whether it is an existing one or you are starting with an idea and want to create a business. And we get things DONE on the same day.
Q: How much do you/would you expect to pay for the following from other providers?
1. Website creation ($4,000+)
2. Hosting/Training on self managed websites ($250+ per month)
3. Logo/Branding/Graphics ($1,000+)
4. Accounting/business admin/registration ($500+)
5. Ideas about your business/strategies to help boost your brand ($1,000+)
6. Industry secrets, apps, tips and tricks for social media, selling, editing, photography, SEO, adwords etc (Priceless!)
We cover ALL of the above and MORE. Each session is tailored to you - and your business. 
Whether you choose to do a 3 hour session, or a full day with us - the value is there - the longer you spend with us - the more you GET DONE in your business!
We are your friends in business - the honest/helpful friends that will help you get to where you want to go, with proven results and strategies we can help you implement right away. 
Our Sessions Cover:
Business registrations (ABN reg, Business Names, ASIC Keys etc)
Website Domains (purchasing/redirecting/hosting)
Building A complete & functional WEBSITE with online cart
Fixing existing websites for functionality/sales etc.
Professional email addresses and signatures
Setting up cloud accounts for storage of files etc.
Revenue & expense tracking/training
Username & Password document and trackers
EDM accounts - set up and training
On the spot logos, graphic artwork, branding/re-branding
Sales & Marketing strategies
Brand awareness strategies
Social Media training
Photography - product photos and editing etc
Creating and Editing content
Customer Service & Sales channels
Social Media engagement - training - collaborations
Access to our vast network
Set up business PayPal, merchant facilities, Afterpay etc. 
Headshots and personal Bio's 
Custom Instagram buttons for highlights, posting etc.
Stock images - use and training
Business planning/ Forecasting
Making money - margins, suppliers etc.
AND MORE!!!! 
What ever you want to cover - if it's not listed above - we can cover. 
We want to see your business thrive and boost not only your online profile but your self confidence! It's all about surrounding yourself with those that can help pull you up to the top.
We have the insight, experience and know how, as we have been exactly where you are! Let us help you to overcome the common hurdles with the knowledge that we learnt the hard way. 
PRICING
Select your session (either 3 hours or a full day) paying upfront, or you can pay a deposit now with the remainder due on the day of your session. We accept payment via PayPal, Credit Card or Bank Transfer. 
We have also recently added HUMM to our website, which allows you to book a mentoring session for a small upfront deposit with the remainder paid in multiple small repayments to keep your cash flow outlay low. 
Feel free to contact us to discuss our payment options. 
Meet the Mentors - Cancellation Policy
We offer a 7 day refund for change of mind - if you decide our service is no longer required.

After the 7 day period we are not able to provide a refund - however we can offer a 6 month credit toward any of our services. Credits will expire after 6 months.