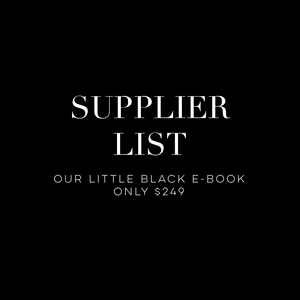 Do you want to take a short cut?
You've started a business (or you are in the process) and you have your amazing product but where do you start with packaging? It can get overwhelming looking at all the overseas platforms such as Alibaba and Ali-express - You don't know where to start.. so you just stop.
This is common, and guess what? We've got your back! 
If you can't invest yet in a private mentoring session, this might be a starting point for you. Some consultants would charge you thousands to share these suppliers but we know that for the average new business cash flow is imperative.
We are sharing our 'Little Black Book of Suppliers' which is a list of all our most trusted and LOCAL suppliers in Australia so that you can move forward with confidence in putting the finishing touches to your amazing products.
It's such a small investment - but it will save you big time in the long run.
You're welcome! 😉 
Simply Purchase the product and you will be sent our secret document!