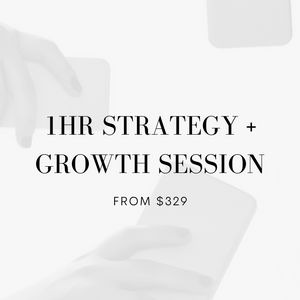 IT'S NOT EASY
Like you, we LOVE our businesses, and we love what we have created... BUT we know more than anyone - it's not easy!
It's one of those, if you know, you know things. Everyone else just sees how much you charge for you product/service and assumes you simply pocket that much money and how easy and flexible that must be since you don't work for someone else....

WRONG! Oh so wrong. We absolutely understand how hard it is. Now, more than ever, running, maintaining and growing a business is HARD WORK! 
We are coming down from an inflated economy post covid lockdown and post record low interest rates and for many competition is UP but sales are DOWN! 
Social media - Instagram, Facebook, Facebook ads, TikTok, LinkedIn, running give aways, sales and discounts, website updates, email marketing, profit analysis, new product sourcing, cost savings, tax planning, competitors, new ideas.... the mind of a business owner is ALWAYS full! 
Our 1 hour strategy and growth session is here to help you address your concerns, and pull you out of the same routine you are stuck in, achieving the same results - or even falling behind - and helps to redirect your attention to move the needle activities and change course for a different result. 
We are here to help, help you to identify strategies to grow, reach new customers, discover new marketing channels and increase profits. 
WHAT'S INCLUDED/COVERED: 
- 1 hour phone call with both Cvet and Amanda 
- Ask us anything... we are here to help with whatever you need. 
Some most commonly discussed topics:
- Identifying new sales channels: Wholesale and B2B opportunities 
- Social Media Ideas & Analysis, Influencer Marketing, Collaborations

- Website Ideas, Questions, Concerns, Advice
- Our industry secrets: ChatGPT, apps, tips and tricks 
- Sales and Marketing strategies
- Facebook Ad advice (are you ready, is it worth it, in-house vs agency) 
- Branding, logo graphic advice and recommendations 
- Profit and accounting/forecasting advice
- Our ideas about your business and strategies to help boost your brand
- Customer service and retention
- Making more money - profit margins, suppliers etc.
We are your friends in business - the honest/helpful friends that will help you get to where you want to go, with proven results and strategies you can implement right away. We can help to keep you accountable for focusing on growing the business and getting through that list you never seem to make it to. 
What ever you want to cover - if it's not listed above - we can cover. 
We want to see your business thrive and boost not only your online profile but your self confidence! It's all about surrounding yourself with those that can help pull you up to the top.
We have the insight, experience and know how, as we have been exactly where you are! Let us help you to overcome the common hurdles with the knowledge that we learnt the hard way. 
PRICING
These are book as you need sessions. You are not locked into any contracts and can use us a frequently or infrequency as you need. 
We accept payment via PayPal, Credit Card or Bank Transfer (please email us to pay via bank transfer). 
We have also recently added HUMM to our website, which allows you to book a mentoring session for a small upfront deposit with the remainder paid in multiple small repayments to keep your cash flow outlay low. 
Meet the Mentors - Cancellation Policy
We offer a 7 day refund for change of mind - if you decide our service is no longer required.

After the 7 day period we are not able to provide a refund - however we can offer a 6 month credit toward any of our services. Credits will expire after 6 months.